Purim is a Jewish holiday, celebrated each year in commemoration of the overthrowing of Haman's plot against the Jews, outlined in the Scroll of Esther. Purim in Israel is, therefore, one of the most important holidays the country celebrates.
In learning about Purim, you're opening your heart and mind to Jewish culture and its people—including its previous and current hardships. At HebrewPod101.com, we hope to make this journey both fun and enlightening. So let's get started!
1. What is Purim?
Purim (also called the Feast of Purim) is based on a story written in the Scroll of Esther. According to the Purim story, Ahasueros, the king of Persia, banished his wife and chose Esther, the Jewess, to take her place. Haman, the highest ranking minister in the kingdom, planned to kill all of the Jews, but Esther discovered his plot, and thanks to her wisdom and sensitivity, she was able to thwart Haman's plans. Since then, Jews have celebrated the victory over Haman, and have read the Scroll of Esther ever year.
2. When is Purim?
The date of Purim varies from year to year on the Gregorian calendar. However, the Purim month is always Adar, with the celebration on the fourteenth. For your convenience, here's a list of this holiday's beginning and end dates for the next ten years:
2019: March 20 (sundown) through March 21 (nightfall)
2020: March 9 (sundown) through March 10 (nightfall)
2021: February 25 (sundown) through February 26 (nightfall)
2022: March 16 (sundown) through March 17 (nightfall)
2023: March 6 (sundown) through March 7 (nightfall)
2024: March 24 (sundown) through March 25 (nightfall)
2025: March 14 (sundown) through March 15 (nightfall)
2026: March 2 (sundown) through March 3 (nightfall)
2027: March 22 (sundown) through March 23 (nightfall)
2028: March 11 (sundown) through March 12 (nightfall)
3. Reading Practice: How is it Celebrated?
So, how is Purim celebrated? Read the Hebrew text below to find out (you can find the English translation directly below it).
—–
בכל מקום תוכלו לראות נסיכות, אבירים, מכשפות, ליצנים, קוסמים וגיבורי-על. את התחפושות לובשים לא רק בערב, אלא גם ביום החג: בבתי הספר, ברחוב ובמקומות העבודה. בפורים צריך לשמוח ולחגוג, ובכל מקום תוכלו למצוא מסיבות רחוב ומצעדים צבעוניים ועליזים.
בפורים נהוג גם לתת אחד לשני חבילות של מאכלים טעימים, שנקראות משלוח מנות. את משלוחי המנות נותנים לחברים, לעמיתים לעבודה ולפעמים גם לזרים, כדי לשמח אחד את השני. מנהג נוסף בחג הוא לתת תרומה לעניים, וכמה שיותר – יותר טוב.
בפורים נפגשים כדי לקרוא יחד את מגילת אסתר. בזמן הקריאה מחזיקים כולם רעשנים, ובכל פעם שמוזכר שמו של המן הרשע – מרעישים בכל הכוח. הרעש מסמל את הבוז כלפי המן.
—–
The most prominent custom associated with Purim is wearing costumes. Princesses, knights, witches, clowns, wizards, and superheroes can be seen everywhere. The costumes aren't worn only at night, but also during the day, during the holiday, at school, on the street, and at work. On Purim, we must be happy and celebrate, and you can find street parties and bright, colorful parades everywhere.
On Purim, it is customary for people to give each other tasty food packages. These are called mishloach manot. They are given to friends, colleagues at work, and sometimes even to strangers, so that we make each other happy. Another holiday custom is to give alms to the poor—the more, the merrier.
On Purim, people gather to read the Scroll of Esther together. During the reading, everyone has noisemakers, and each time the name of the evil Haman is mentioned, people make as much noise as they can. The noise symbolizes our disdain for Haman.
4. Additional Information: Haman's Ears
Which sweet Purim food do we eat to celebrate, and what body part is it associated with? On Purim, we eat a sweet, brittle cookie made of dough stuffed with poppy seeds, or sometimes, with chocolate or dates. They're called "Haman's ears", because their triangular shape looks like the ears of the evil Haman.
5. Must-know Vocab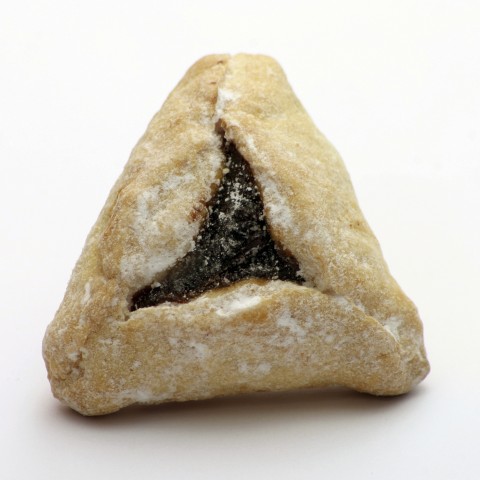 Here's some vocabulary you should know for Purim!
אלכוהול (alkohol) — alcohol
פורים (Purim) — Purim
זרש (Zeresh) — Zeresh
עשרת בני המן (Aseret Bnei Haman) — ten sons of Haman
משלוח מנות (Mishloakh Manot) — Mishloach manot
מגילה (megilah) — Megillah
מרדכי (Mordekhai) — Mordechai
אוזן המן (Ozen Haman) — hamentasch
המן (Haman) — Haman
רעשן (ra'ashan) — gragger
מתנות לאביונים (Matanot La-evyonim) — Matanot l'Evyonim
סעודת מצווה (seudat Mitzvah) — festive meal
אסתר (Esther) — Esther
תחפושות (tachposot) — costume
אחשוורוש (Achashverosh) — Ahasuerus
להטיל פור (le-hatil pur) — draw a lot
תהלוכה (tahalucha) — parade
If you want to hear each of these vocabulary words pronounced, check out our Purim vocabulary list. Here, you'll find each word accompanied by an audio of its pronunciation.
Conclusion
Now you know how Jews celebrate Purim. What are your thoughts? Is there a special holiday in your own country this reminds you of? Let us know in the comments!
To learn more about the Hebrew language and culture, visit us at HebrewPod101.com. We offer an array of insightful blog posts, free vocabulary lists, and an online community where you can discuss lessons with fellow Hebrew learners. You can also upgrade your account to begin using our MyTeacher program, so that you can learn Hebrew one-on-one with your own personal Hebrew teacher.
Know that your hard work will soon reap benefits, and you'll soon be speaking Hebrew like a native. In the meantime, keep studying and treat yourself to a hamentasch or two!