One of the best ways to familiarize yourself with a culture is to learn its national anthem. In Israel's case, the anthem is called התקווה (Ha-Tikvah), which means "The Hope." Not only will this earn you some street cred next time you're at a sporting event in Tel Aviv or celebrating יום העצמאות (Yom ha-'Atzma'ut) in Jerusalem, it is a wonderful lens through which to examine modern Israel's history and dig deep into issues of identity, politics, and ethnolinguistics.
In today's fascinating lesson, we're going to take you on a journey through the rise and development of Zionism as a movement, the adoption of Ha-Tikvah as the unofficial hymn of the nascent nation project that was eventually to become the State of Israel, and much more along the way. We'll talk about the key figures involved in its composition and adoption and, of course, take a look at the actual lyrics and their meaning, both semantically and culturally.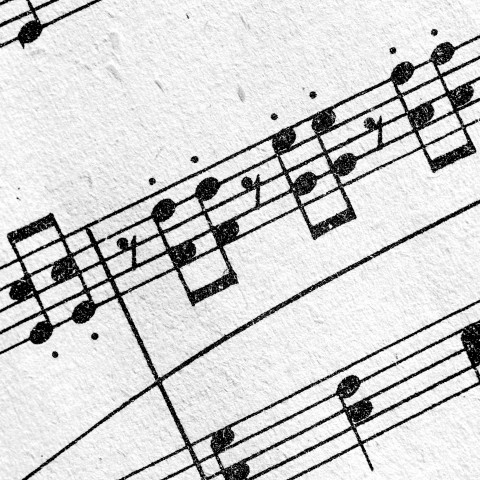 Table of Contents
1. Lyrics to Ha-Tikvah, the Israeli National Anthem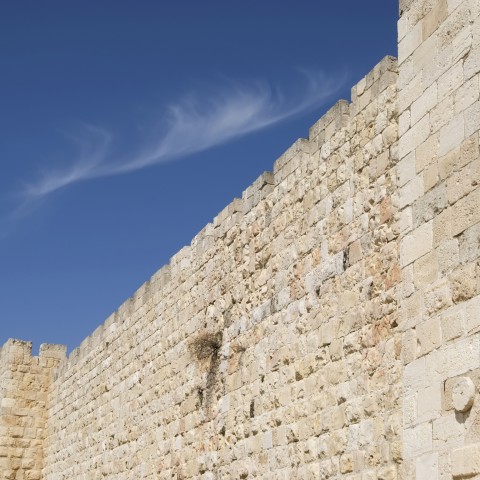 First things first! Let's have a look at the lyrics of Israel's national anthem, along with transliteration and translation. It is worth noting that the lyrics are part of a longer poem entitled תקוותנו (Tikvateinu), or "Our Hope," written by the Galician Jew Naftali Herz Imber in response to the establishment of פתח תקווה (Petakh Tikvah, literally "The Gateway to Hope"), the first modern Jewish agricultural settlement in the Holy Land.
Herz Imber originally wrote his nine-stanza poem around 1878, though it was not published until 1886, when it was included in a compilation of Imber Herz's poems titled ברקאי (Barkai, "Morning Star") printed in Jerusalem. (Herz Imber had emigrated to Israel in 1882). The poem went through various iterations as it was circulated throughout different communities in the ארץ ישראל (Eretz Yisra'eil). It was ultimately truncated to its first two stanzas, which were set to music by Romanian immigrant to Israel Shmuel Cohen. You can hear the anthem sung below while you look over the lyrics.
עברית ('Ivrit, "Hebrew")
Transliteration
English
כל עוד בלבב פנימה
נפש יהודי הומייה
ולפאתי מזרח קדימה
עין לציון צופיה.

עוד לא אבדה תקוותינו
התקווה בת שנות אלפיים
להיות עם חופשי בארצנו
ארץ ציון וירושלים
Kol od ba'levav penima
Nefesh yehudi homiyah
U'lefa'atei mizrakh kadimah
'Ayin le-Tziyyon tzofiyah

'Od lo avda tikvateinu
Ha-tikvah bat shenot alpayim
Lihyot 'am khofshi be-artzenu
Eretz Tziyyon ve-Yerushalayim
As long as within our hearts
The Jewish soul sings
As long as forward to the East
To Zion, looks the eye

Our hope is not yet lost
It is two thousand years old
To be a free people in our land
The land of Zion and Jerusalem
2. Ha-Tikvah's Beginnings
As mentioned, the original poem from which Ha-Tikvah emerged was penned by Naftali Herz Imber. Herz Imber started writing poetry at a young age, even winning an award for one from Emperor Franz Josef. An adventurous youth, he set forth from his native Galicia, then under the Austro-Hungarian Empire (and now a part of Ukraine), at age 19, traveling across Europe and the Middle East.
In Turkey, Imber Herz fatefully encountered Sir Laurence Oliphant, a British Member of Parliament who was an ardent supporter of the Zionist movement's aim to resettle Jews in the Holy Land. Imber Herz accompanied Oliphant and his family to the Holy Land in 1882, living with him in Haifa and the Druze village of Daliyat al-Carmel. Oliphant sent Imber Herz to train as a watchmaker in Beirut, Lebanon, subsequently helping him to open a watch shop in Haifa, but Herz Imber was apparently not one to settle.
He moved to Jerusalem in 1884, where, as mentioned, he published his first collection of poems. This publication gave his poem Tikvateinu wide circulation, as did Imber Herz's own readings when he visited settlements throughout the Holy Land.
3. The Language of Ha-Tikvah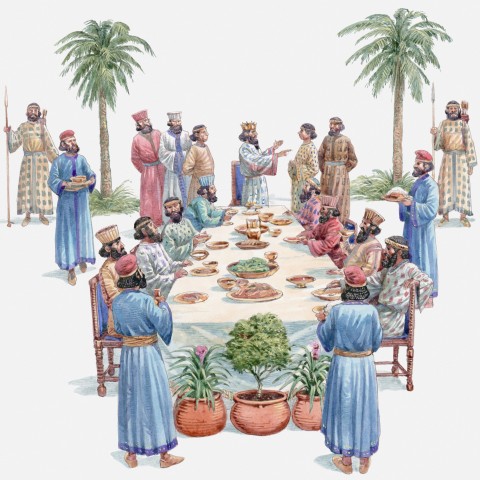 While you may certainly learn or even recognize some words from the lyrics of Ha-Tikvah, it is important to note that its composition predates the true revival of Modern Hebrew as a spoken language. In fact, the first organization dedicated to promoting the use of Hebrew as a lingua franca in the Holy Land, the שפה ברורה (Safah Berurah, "Clear Language") society, was not founded until 1889, three years subsequent to Tikvateinu's publication and over a decade after it was originally written.
For this reason, the language employed in the poem from which the anthem's lyrics are derived is fairly archaic. In fact, most of it is Biblical. Beyond simply emulating the Bible's style, the original poem actually made numerous references to Biblical passages on themes like hope, salvation, and God. However, revisions and emendations through the years removed most of these, following a secularizing trend that aligned the text with Zionism's largely secular character.
4. Competition and Controversy Surrounding Ha-Tikvah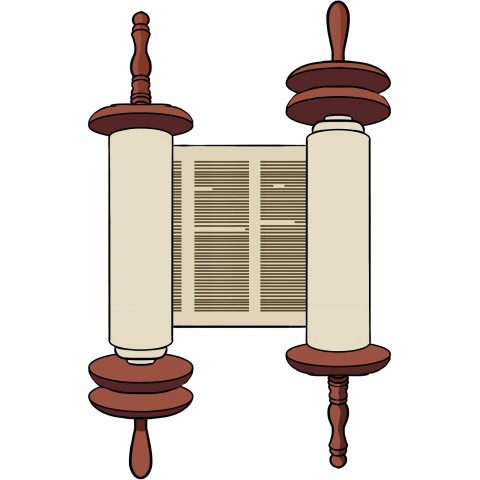 It is worth mentioning that Ha-Tikvah was not the only text vying for the status of national anthem in Israel's pre-state years. Apart from Psalm 126, there were some dozen texts in competition as a national anthem for a state still in the making.
Another poem of Imber Herz's was even among the contenders, as was Chaim Nachman Bialik's תחזקנה (Tekhezaknah, "Be Strengthened"). Israeli newspapers even weighed in on the respective merits of the two poems! Bialik's song was widely used as the hymn of Labor Zionism. The marchlike character of the latter, though invigorating in a vein reminiscent of Communist revolutionary hymns, ultimately could not overtake Ha-Tikvah's emotional impact.
Apart from mere competition, Ha-Tikvah had real detractors. As mentioned previously, the Biblical and specifically religious tone of the original poem did not strike a harmonious chord with Israel's secular founders. On the opposite side of the spectrum, many religious Zionists felt that only a text taken from the Bible itself was worthy of serving as a national anthem to the fledgling state. Furthermore, the overt Jewishness of Imber Herz's text found opponents among the hard left, as well as Israel's non-Jewish communities, such as Muslim and Christian Arabs. Indeed, as late as 1967 (following the Six Day War), leftist Member of Knesset Uri Avnery introduced a bill to replace Ha-Tikvah with Naomi Shemer's ירושלים של זהב (Yerushalayim shel Zahav, "Jerusalem of Gold"), though the bill never even made it to a vote.
Lastly, in terms of the music itself, Ha-Tikvah saw push back on a number of levels. Firstly, some objected that its music was neither original nor Jewish. The opening melody of the anthem, in fact, is almost identical to Czech composer Bedřich Smetana's movement Vltava or Die Moldau from his tone poem Má Vlast.
It is, of course, entirely possible that rather than representing piracy, Shmuel Cohen's tune simply may share a common Central European source with Smetana's, a phenomenon ethnomusicologists sometimes referred to as a "tune family." Along these lines, Israel's first preeminent musicologist, Abraham Zvi Idelsohn, considered the tune to be an ancient "wandering tune" that he identified in various songs from places as far flung as Basque, Poland, and England.
Beyond arguments over Ha-Tikvah's originality, there were also those who objected the mere fact that the text had been set in a minor key. Such objections seemed to center around the notion that a national anthem, in particular that of a country as hard fought for as Israel, should be uplifting and inspirational rather than gloomy or pained.
5. How Ha-Tikvah Came to Be Adopted as Israel's De Facto National Anthem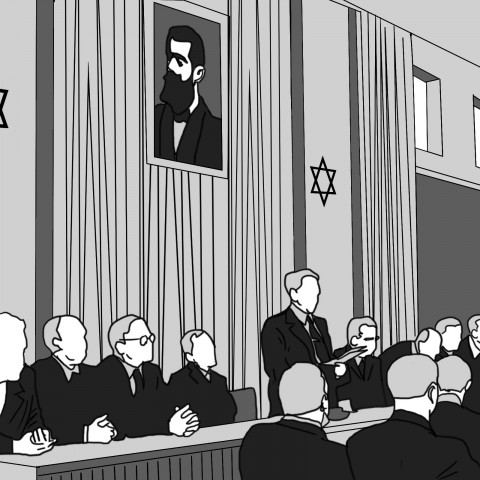 Amazingly, Ha-Tikvah was not officially recognized as the anthem of the State of Israel until 2004, though perhaps this is no great surprise coming from a country still without any written constitution. However, Ha-Tikvah has been sung as a Zionist national hymn at least from the Fifth Zionist Congress held in Basel, Switzerland, in 1901. It was subsequently sung at the Sixth Zionist Congress two years later, when, with its clear celebration of Jews' ties to Israel and Jerusalem specifically, it made the perfect reply of rejection to the British offer of Uganda as an alternative national homeland for the Jewish people.
By the Seventh Zionist Congress of 1905, it was confirmed as the unofficial national anthem of the worldwide Zionist movement. It was sung at every subsequent Zionist Congress, as well as at other Zionist functions and functions gatherings across the globe. However, the song did not attain official recognition by the Congress until the 18th Zionist Congress, which also adopted the blue and white banner we know today as Israel's flag. It was famously sung years later, when statehood was finally declared on May 13, 1948.
The song continually gained popularity, solidifying its singular status as the Zionist rallying song throughout pre-state Israel and the Diaspora in particular during the interwar years. Beyond the beauty of its lyrics, one might attribute this to the sense of solidarity it expresses, linking world Jewry by their ties, however far removed, to a common place and history – and today, to a common present and future.
6. When Is Ha-Tikvah Sung?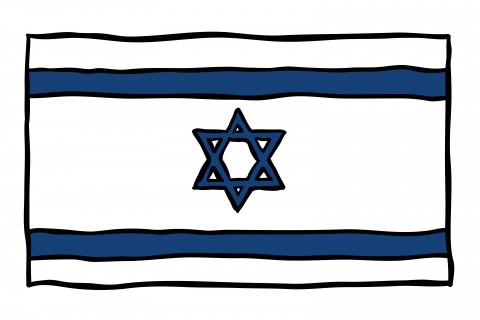 Ha-Tikvah may be sung at just about any official occasion, such as national holidays, political events, memorial services, graduation ceremonies, and even sports events – much like The Star Spangled Banner. It is not typically sung as part of synagogue prayer services, though it is played at the beginning of classical concerts and other cultural events. Outside, Ha-Tikvah is commonly sung at Zionist events, its lyrics representing so powerfully the eternal connection of Jews the world over to the Land of Israel and its capital, Jerusalem.

7. Interesting Trivia about Ha-Tikvah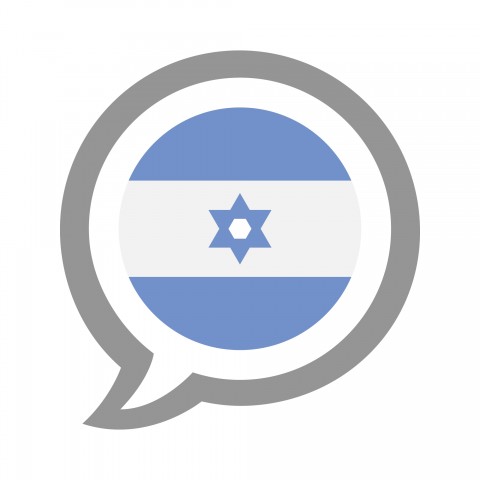 Now that you know all the history surrounding Ha-Tikvah (and, of course, all the words by heart), let's end on a fun note by taking a look at some trivia related to Israel's national anthem.
Naftali Herz Imber, like so many other luminaries in history, ended up in abject poverty. Having left the Holy Land in 1889 following a dispute with Sir Oliphant, he stayed for periods in England, France, Germany, and even India before arriving in the United States. Never able to achieve stability, Imber Herz died broke in New York City, in 1909, from complications arising from chronic alcoholism. Though buried in Queens, he was ultimately reinterred in Jerusalem in 1953.
Some historians credit not Shmuel Cohen but Nissan Belzer with penning the melody for Ha-Tikvah. Then again, as mentioned, many highly similar melodies can be found throughout Europe. Some key examples are the 17th century Italian folksong La Mantovana by Giovanni Del Biado and the Sephardi prayer תפילת טל (Tefillat Tal, "Prayer for Dew"). In any case, Cohen never received a shekel of royalties!
The British Mandate government banned the singing of Ha-Tikvah in 1919 in the wake of Arab anti-Zionist riots.
Ha-Tikvah was so meaningful to Jews prior to the establishment of the State of Israel that it was sung on numerous occasions by Holocaust inmates even as they marched to the gas chambers. It was also sung in celebration at the liberation of camps like Bergen-Belsen, a song of an eternal dream that did not die even when so many of its dreamers had. You can hear a recording of the latter example here.
A 2012 Peace Index poll conducted by Tel Aviv University found that 90% of Israel's Arab citizens consider Ha-Tikvah "unsuitable" as a national anthem.
Some synagogues conclude their יום כיפור (Yom Kippur, "Day of Atonement") services with Ha-Tikvah. Additionally, some Jews include it at the conclusion of the סדר פסח (Seider Pesach, "Passover Seder").
8. We at HebrewPod101 Hope You Enjoyed Today's Lesson!
That's all for today's lesson. We surely hope you found it informative and interesting. And even if you already knew something about Ha-Tikvah, we're betting you found at least one or two new facts to take away with you. More than anything, it is our wish that you find our resources useful and enriching, which is why we make sure to mix cultural and historical lessons with our grammar and vocabulary lessons.
Was there anything else you wanted to know about Ha-Tikvah or any of its related history? Would you like a lesson on some other Israeli song or any other aspect of Israeli culture? Let us know! We love hearing from our learners, and we always strive to ensure you stay interested, because an interested student is a motivated one! Reach out today. We'd love to hear from you! Until next time, shalom!
October 21, 2022
Many people find themselves in Israel for educational reasons, whether it is to learn Hebrew or anything else. Beyond the fact that it's home to a number of top-ranking universities on a global scale, Israel is a true melting pot of cultures, drawing visitors, including students, from the four corners of the Earth. Not only does Israel boast a robust choice of study abroad programs, many foreigners studying, working, or living in Israel find that teaching their own native language or some other skill they may know is a great way to make a little spending money.
Whatever the case is as far as you're concerned, you're likely here because you expect to find yourself in some sort of classroom setting while in Israel. If that's true, you're definitely in the right place. In today's lesson, we're going to cover the top 30 Hebrew classroom phrases for teachers and students, regardless of whether they are in the context of Hebrew language learning or any other subject. We'll talk about classroom greetings, teacher's instructions, how to ask for clarification from the teacher or fellow students, and explaining tardiness or absences. We will also cover subjects of study as well as common school supplies.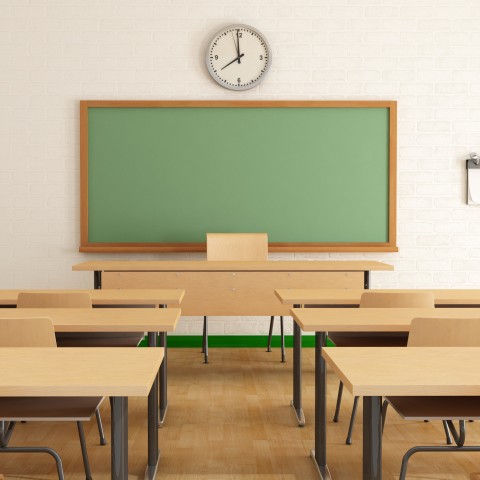 Now get your pencils sharpened and your apples polished, and let's head to class for today's lesson on useful Hebrew classroom phrases.
Table of Contents
1. Hebrew Classroom Greetings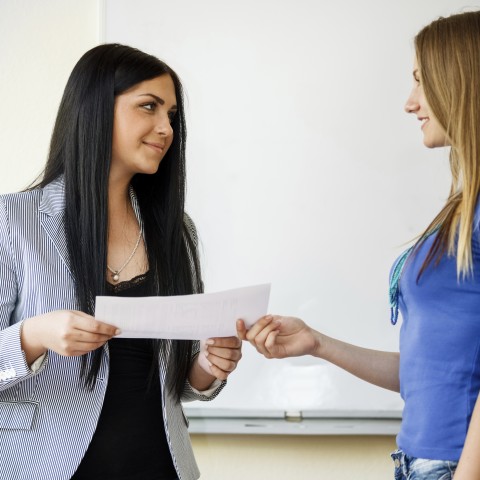 It's well known that the classroom is one of the best places to make good friends, whether you are taking a Hebrew Ulpan class or an elective at university in a subject near and dear to your heart. These greetings, largely, are the same as the Hebrew words in general Israeli greetings, which you can read more about here. However, to make this context appropriate, we've included some examples where one might be greeting a teacher or classmate specifically. Note that in modern Hebrew, there really is no distinction between these two in terms of formality.
1. בוקר טוב / צהריים טובים / ערב טוב
Boker tov / Tzohorayim tovim / 'Erev tov
"Good morning / Good afternoon / Good evening"
*This first group of greetings is obviously time specific, so choose accordingly. Note that in modern Hebrew, we would only use לילה טוב (laylah tov, "good night") as a farewell, not as a greeting. ערב טוב ('erev tov, "good evening") can be used as a greeting any time after dark, or after about 5 PM.
בוקר טוב, המורה. מה שלומך?
Boker tov, ha-moreh/ha-morah. Mah shlomekh?
"Good morning, teacher. How are you?"
צהריים טובים, רועי. מה נשמע?
Tzohorayim tovim, Ro'i. Mah nishmah?
"Good afternoon, Roi. What's new"
ערב טוב, קסניה. עד מחר.
'Erev tov, Kseniyah. 'Ad makhar.
"Good evening, Ksenia. Until tomorrow."
2. שלום
Shalom
"Hello / Goodbye"
*This highly useful Hebrew word can be used for either hello or goodbye. It simply depends on when you use it which defines if it is a greeting or farewell.
שלום, רוני. מה המצב?
Shalom, Roni. Mah ha-matzav?
"Hello, Roni. What's up?"
שלום, המורה שני. טוב לראות אותך.
Shalom, ha-Morah Shani. Tov lirot otakh.
"Hello, Teacher/Miss Shani. Good to see you."
3. להתראות
Lehitra'ot
"Goodbye" (Literally, "See you.")
להתראות, מור. עד השיעור הבא!
Lehitra'ot, Mor. 'Ad ha-shi'ur ha-ba!
"Goodbye, Mor. Until the next class!"
4. נתראה מחר.
Nitra'eh makhar.
"See you tomorrow"
5. המשך יום נעים.
Hemshekh yom na'im.
"Have a pleasant rest of the day."
2. Common Hebrew Teachers' Instructions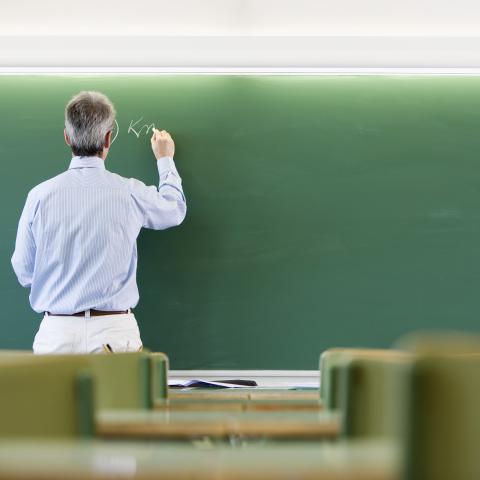 Now that we're set greeting teachers and students and bidding them farewell, let's take a look at another important area of language related to the classroom. Specifically, we're now going to address the issue of teachers' instructions. Note that these typically involve basic Hebrew phrases useful in other contexts as well. In the classroom, they may or may not be couched in polite terms, with or without words like "please" or "would you please." Don't take the lack of such politeness as intentional rudeness. Remember that Israeli culture is a direct one!
6. בבקשה לפתוח את עמוד … בספרים שלכם.
Bevakashah lifto'akh et 'amud … ba-sfarim shelakhem.
"Please open to page … in your books."
בבקשה לפתוח את עמוד 187 בספרים שלכם.
Bevakashah lifto'akh et amud me'ah shemonim ve-shmoneh ba-sfarim shelakhem.
"Please open to page 187 in your books."
7. שימו לב.
Simu lev.
"Listen carefully." (Literally, "Take heart.")
שימו לב. הקטע הזה חשוב מאוד.
Simu lev. Ha-keta' ha-zeh khashuv me'od.
"Listen carefully. This part is very important."
8. שקט בבקשה.
Sheket bevakashah.
"Please be quiet."
שקט בבקשה. אני לא מצליח לשמוע את השאלה.
Sheket bevakashah. Ani lo matzli'akh lishmo'a et ha-she'elah.
"Please be quiet. I can't hear the question."
9. יש שאלות?
Yesh she'elot?
"Any questions?"
יש שאלות? בכל מקרה תהיה חזרה לפני המבחן.
Yesh she'elot? Be-khol mikreh, tihiyeh khazarah lifney ha-mivkhan.
"Any questions? In any case, there will be a review before the exam."
10. לא לשכוח את שיעורי הבית.
Lo lishko'akh et shi'urei ha-bayit.
"Don't forget the homework."
3. Asking Teachers and Classmates for Clarification in Hebrew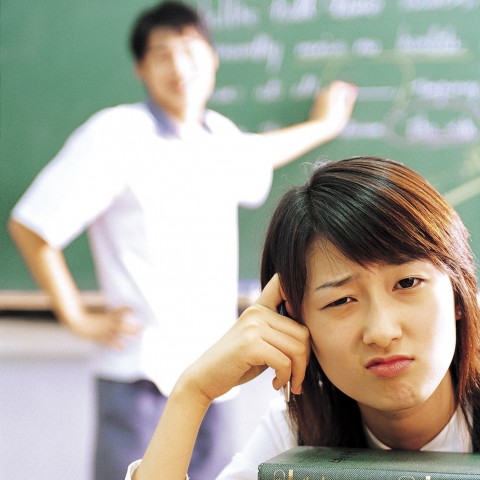 Another important category of classroom phrases for your Hebrew vocabulary is those you might use when asking for clarification. You might ask the teacher to repeat or elaborate on something s/he has just shared with the class. Alternatively, you may be asking a fellow classmate to help you understand some point, lesson, or reading you may be struggling with. Or maybe you just need help with the Hebrew! Whatever the case may be, here is some highly useful language to aid you.
11. לא הבנתי.
Lo hevanti.
"I don't understand." (Literally, "I didn't understand," or, "I haven't understood.")
12. תוכל/י לחזור על זה?
Tukhal/Tukhli lakhazor 'al zeh?
"Can you repeat that?"
13. יש לי שאלה. / יש לי כמה שאלות.
Yesh li she'elah. / Yesh li kamah she'elot.
"I have a question. / I have a few questions."
14. מה אמר/ה המורה?
Mah amar ha-moreh/amrah ha-morah?
"What did the teacher say?"
15. אפשר לראות את הסיכומים שלך?
Efshar lirot et ha-sikumim shelkha/shelakh?
"Can I see your class notes?"
4. Explaining Absences and Tardiness in Hebrew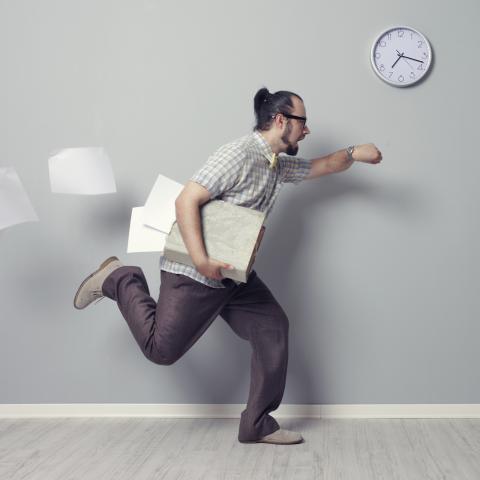 Let's face it. We all show up late to class sometimes. And at times, we may not show up at all! Whether due to traffic, an illness, or a conflicting commitment, it is bound to happen sometimes. And when it does, you'll want to be well-prepared with some handy language to offer an explanation or justification. You probably don't want to interrupt the class to do so, however. As in most of the world, comments to explain tardiness are best made to the teacher one on one and after class has ended. And explanations as to an absence – or an expected tardiness, for that matter – are best made before they happen, in an email if necessary.
16. אני לא מרגיש/ה טוב. לא אוכל להגיע לשיעור היום.
Ani lo margish/ah tov. Lo uchal lehagi'a la-shi'ur hayom.
"I'm not feeling well. I won't be able to attend class today."
17. סליחה על האיחור. היו פקקים
Slikha 'al ha-ikhur. Hayu pekakim.
"Sorry I'm late. There was traffic."
18. לא עשיתי את שיעורי הבית. ברח לי מהראש.
Lo 'asiti et shi'urei ha-bayit. Barakh li me-ha-rosh.
"I didn't do the homework. It slipped my mind."
19. אפשר להשלים את החומר?
Efshar lehashlim et ha-khomer?
"Can I make up the work?"
20. תהיה חזרה לפני המבחן?
Tihiyeh khazarah lifnei ha-mivkhan?
"Will there be a review before the exam?"
5. Talking about Academic Subjects in Hebrew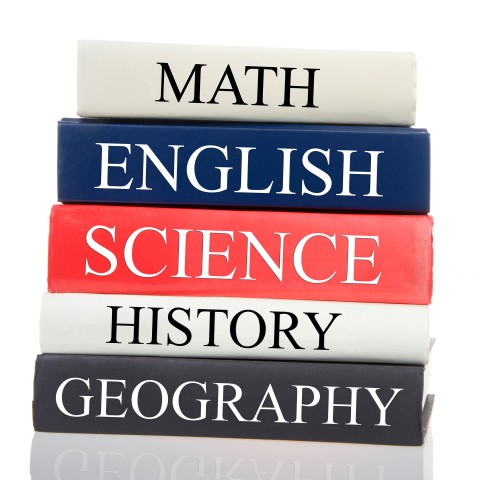 Now let's have some useful Hebrew classroom phrases to talk about subjects you like and dislike. To help you refer to the specific subjects relevant to you, we've included a list of the most common school subjects. Just be sure to not the grammatical gender of whatever language you use in case you are adding any adjectives, numbers, etc. You can review the issue of grammatical gender in Hebrew here.
| | | |
| --- | --- | --- |
| English | Romanization | עברית |
| "math" | matematikah | מתמטיקה |
| "history" | historiyah | היסטוריה |
| "writing" | ketivah | כתיבה |
| "foreign language" | safah zarah | שפה זרה |
| "English" | Anglit | אנגלית |
| "art" | omanut | אמנות |
| "sciences" | mada'im | מדעים |
| "biology" | biyologiyah | ביולוגיה |
| "chemistry" | kimiyah | כימיה |
| "physics" | fizikah | פיזיקה |
| "reading" | keri'ah | קריאה |
| "geography" | ge'ografiyah | גיאוגרפיה |
| "citizenship" (cf. social studies) | ezrakhut | אזרחות |
| Bible | TaNa"KH | תנ"ך |
| physical education | khinukh gufani | חינוך גופני |
| literature | sifrut | ספרות |
21. המקצוע האהוב עליי זה …
Ha-miktzo'a ha-ahuv 'alai zeh …
"… is my favorite subject."
המקצוע האהוב עליי זה תנ"ך.
Ha-miktzo'a ha-ahuv 'alai zeh TaNa"KH.
"Bible is my favorite subject."
22. … הוא/היא החוזקה שלי.
… hu/hi ha-khozka sheli
"… is my forte."
ספרות זה החוזק שלי.
Sifrut hi ha-khozka sheli.
"Literature is my forte."
23. אני לא חזק/ה ב…
Ani lo khazak/ah be…
"I'm not too good at…"
אני לא חזק במתמטיקה.
Ani lo khazak be-matematikah.
"I'm not too good at math."
24. אני קצת חלש/ה ב…
Ani ketzat khalash/ah be…
"I'm a bit weak in / at …"
אני קצת חלשה בהיסטוריה.
Ani ktzat khalasha be-historiyah.
"I'm a bit weak at history."
25. אני מנסה להשתפר ב…
Ani menaseh/menasah lehishtaper be…
"I'm trying to improve in …"
אני מנסה להשתפר בגיאוגרפיה.
Ani menasah lehishtaper be-ge'ografiyah.
"I'm trying to improve in geography."
6. Talking about Common School Supplies in Hebrew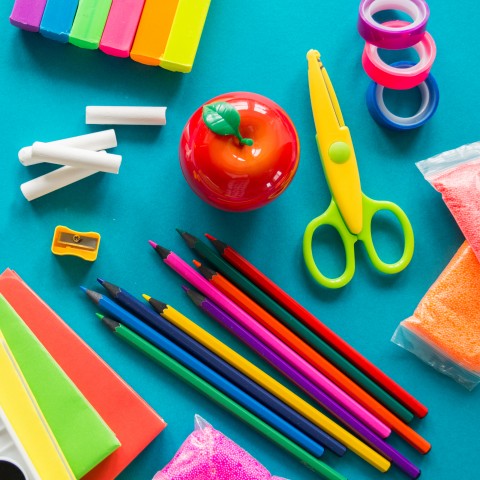 Lastly, let's examine some useful Hebrew phrases for talking about school supplies. Just as in the previous category, we've provided a table with a list of common supplies you might find or need in the classroom. Again, be sure to watch the gender of the word or words you use, making sure you conjugate correctly.
| | | |
| --- | --- | --- |
| English | Romanization | עברית |
| "pencil / supply case" | kalmar | קלמר |
| "notebook" | makhberet | מחברת |
| "spiral notebook" | spiralah | ספירלה |
| "pen" | 'et | עט |
| "pencil" | 'iparon | עפרון |
| "sharpener" | mekhaded | מחדד |
| "eraser" | makhak | מחק |
| "binder" | klaser | קלסר |
| "plastic mini-folder" | nailonit | ניילונית |
| "highlighter" | lord | לורד |
| "ruler" | sargel | סרגל |
| "scissors" | misparayim | מספריים |
| "glue" | devek | דבק |
| "tape" | seloteyp | סלוטייפ |
| "agenda" | yoman | יומן |
| "board" | lu'akh | לוח |
| "marker" | tush | טוש |
| "chalk" | gir | גיר |
| "light" | or | אור |
| "fan" | me'avrer | מאוורר |
26. האם תוכל/י להשאיל לי …?
Ha'im tukhal/tukhli lehash'il li …?
""Could you lend me a/some …?"
האם תוכל/י להשאיל לי עפרון?
Ha'im tukhal/tukhli lehash'il li 'iparon?
"Could you lend me a pencil?"
27. איבדתי את ה… שלי.
Ibadeti et ha… sheli.
"I lost my…"
איבדתי את המחק שלי.
Ibadeti et ha-makhak sheli.
"I lost my eraser."
28. אני חייב/ת לקנות …
Ani khayav/khayevet liknot …
"I need to buy …"
אני חייבת לקנות מספריים.
Ani khayav/khayevet liknot misparayim.
"I need to buy scissors."
29. יש לך במקרה …?
Yesh lekha/lakh be-mikreh …?
"Do you by any chance have a/some …?"
יש לך במקרה ניילונית?
Yesh lekha/lakh be-mikreh nailonit?
"Do you by any chance have a plastic mini-folder?"
30. הנה … 
Hine …
"Here's a/some …"
הנה סרגל. 
Hine sargel.
"Here's a ruler."
7. Let HebrewPod101 School You!
We hope you found this lesson on Hebrew classroom language edifying, interesting, and fun. We do our best to think about the sorts of phrases, words, and situations likely to be most helpful to our students. That said, there are always things of a personal nature that you may wish to explore. And that's what we're here for!
So if there is any language we didn't cover or anything we did cover, but which you're still somewhat unclear about or want more information on, don't hesitate to get in touch. Our team of native-speaking Hebrew teachers is always standing by for any questions or comments our students may have, and we'd love to hear from you! Until next time, shalom!
August 26, 2022
If there's one thing Israelis like to do, it's talk! We're called the People of the Book, but it would be just as legitimate to call us the People of the Word, as Jews like language any way we can get it, whether written, spoken, or even sung. Of course, regardless of the culture in question, mastering the art of conversation is a key part of acquiring a new language. But how can one actually go about improving one's Hebrew conversation skills? And what are the relevant skills that make for good conversation in the first place?
Well, these questions are just what today's lesson is going to address. Together, we'll look at both general ways to improve your ability to converse in Hebrew and specific language to focus on for your own personalized linguistic profile. We'll examine common conversation starters, questions and answers, and even filler words. Finally, we'll have a look at some basic tips you can use to boost your conversation game.
As we look at these various aspects of Hebrew conversation, along with brief sample conversations as a reference, remember that your Hebrew speaking skills are yours. This means that part of mastering any language is learning how to use it in order to express the person you already are. While it's definitely necessary to make some linguistic and cultural adjustments to be able to use Hebrew effectively, we hope this lesson will also empower you to really find your own unique voice, even as you translate it into another tongue.
Without further ado, let's delve into HebrewPod101's Ultimate Guide to Improving Your Hebrew Conversation Skills.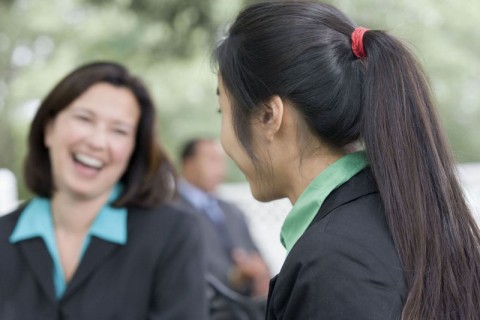 Table of Contents
1. Make Your Own Language Profile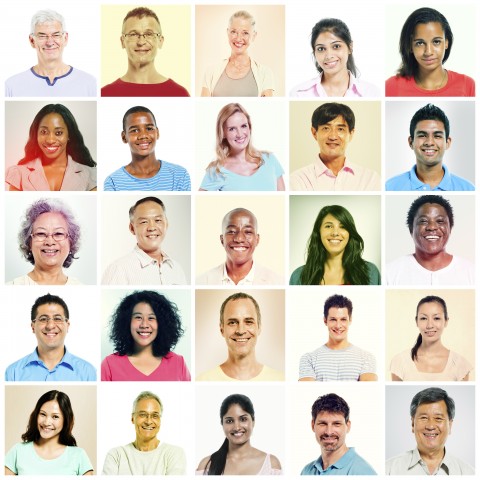 As we mentioned in the introduction, part of mastering the art of conversation in a foreign language is identifying the language chunks you need to talk about yourself and the things you're interested in. This notion should be fairly self-explanatory. So many conversations entail talking and answering questions about ourselves that we want to be sure we show up ready to express who we are without hesitation.
While some people even go so far as to prepare a "cheat sheet" with some phrases to talk about themselves, we highly recommend that if you do so, you use it for memorization before you try the language out in a live conversation. Israel is a rather fast-paced society, so needing to pause and refer to a cheat sheet is unlikely to leave much of an impression. Rather, take your time and pick just a few phrases at a time to add to your repertoire, and you should have little to no trouble recalling them when the time comes.
Below are some helpful language elements we hope will get you on your way, along with some contextualized examples of how to use them. Be sure to look up the words you need to describe yourself, including your profession, place of origin, hobbies, etc.
1. שלום, אני…
Shalom, ani…
"Hi, I'm/my name is …"
2. אני מ…
Ani me….
"I'm from …"
3. אני בן / בת …
Ani ben / bat …
"I'm … years old."
4. אני רווק/ה.
Ani ravak / revakah.
"I'm single."
5. אני נשוי / נשואה.
Ani nasui / nesu'ah.
"I'm married."
6. יש לי … ילדים.
Yesh li … yeladim.
"I have … kid(s)."
7. אני …
Ani …
"I'm a …"
8. אני עובד/ת ב…
Ani oved / ovedet be…
"I work in / at …"
9. אני לומד/לומדת … ב….
Ani lomed / lomedet … be/ba…
"I'm studying … at …"
10. אני אוהב / אוהבת …
Ani ohev / ohevet …
"I like/love …"
שלום, שמי רמון. אני מקולומביה. אני בן 26. אני רווק. אני מהנדס ואני לומד הנדסה בטכניון. אני אוהב לרקוד סלסה.
Shalom, ani Ramon. Ani mi-Kolombia. Ani ben 'esrim ve-shesh. Ani ravak. Ani lomed handasah ba-Tekhniyon. Ani ohev lirkod salsah.
"Hi, my name is Ramon. I'm from Colombia. I'm 26 years old. I'm single. I'm studying engineering at the Technion. I like salsa dancing."
שלום, שמי שירה. אני מקנדה. אני בת 37. אני נשואה. יש לי שני ילדים. אני אחות. אני עובדת בבי"ס תיכון. אני אוהבת לנגן בגיטרה וכינור.
Shalom, ani Shirah. Ani bat shloshim ve-sheva'. Ani nesu'ah. Yesh li shnei yeladim. Ani akhot. Ani 'ovedet be-veit sefer tikhon. Ani ohevet lenagen be-gitarah ve-kinor.
"Hi, I'm Shira. I'm 37 years old. I'm married. I have two kids. I'm a nurse. I work at a high school. I like to play guitar and violin."
2. Learn Hebrew Reactions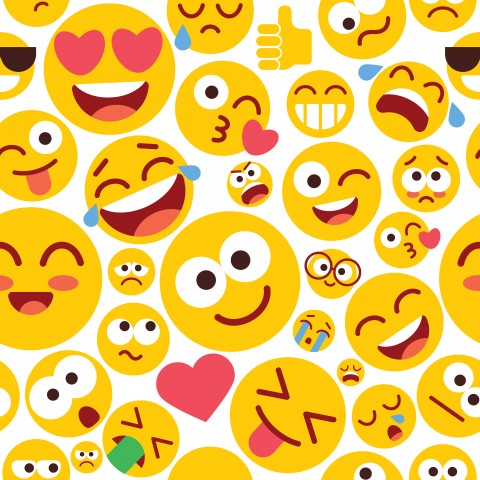 Apart from being able to convey basic personal information about ourselves, it's always good to be prepared to respond to anything our conversation partner may throw our way. While there are almost an infinite number of responses you could offer in any given situation, we've curated the most common and most useful ones for you here.
Again, this list is nowhere near exhaustive, but we do think these represent reactions that work in a broad variety of situations. We've also provided a few examples of how to use them in context.
1. נהדר
Nehedar
"Great."
– שמעת שאנחנו נוסעים לקנדה בשבוע הבא לבקר את המשפחה שלי?
Shama'ta she-anakhnu nos'im le-Kanadah ba-shavu'a ha-ba levaker et ha-mishpakhah sheli?
"Did you hear that we're going to Canada next week to visit my family?"

– נהדר! נסיעה טובה!
Nehedar! Nesi'ah tovah!
"Great! Have a great trip!"
– אני חוגג יום-הולדת מחר ואתה מוזמן לבוא למסיבה.
Ani khogeg yom-huledet makhar ve-atah muzman lavo la-mesibah.
"It's my birthday tomorrow, and you're invited to come to the party."

– נהדר! תודה רבה.
Nehedar! Todah rabah.
"Great! Thanks a lot."
2. נכון מאוד.
Nakhon me'od.
"Very true."
– המסעדה הזאת ממש זולה!
Ha-mis'adah ha-zot mamash zolah!
"This restaurant is really affordable!"

– נכון מאוד.
Nakhon me'od.
"Very true."
– אני חושבת שמאז שהתחלפה הממשלה, המדינה משתפרת.
Ani khoshevet she-me'az she-hitkhalfa ha-memshalah, ha-medinah mishtaperet.
"I think that since the government has changed, the country has been improving."

– נכון מאוד.
Nakhon me'od.
"Very true."
3. אתה צודק / את צודקת.
Atah tzodek / At tzodeket.
"You're right."
– סליחה, אבל חסר לי כאן עודף.
S'likhah, aval khaser li kan 'odef.
"Sorry, but I'm missing some change here."

– את צודקת. הנה.
At tzodeket. hine.
"You're right. Here you go."
– אולי אני טועה, אבל נדמה לי שהחנייה כאן היא תת-קרקעית.
Ulai ani to'eh, aval nidmeh li she-ha-khanayah kan hi tat-karka'it.
"I may be wrong, but I think the parking here is underground."

– אתה צודק. בוא נרד למטה.
Atah tzodek. Bo nered lemata.
"You're right. Let's head down."
4. מעניין.
Me'anyen.
"Interesting."
– שמעת שיש כבר טיסות בין ישראל לאיחוד האמירויות?
Shama't she-yesh kvar tisot bein Yisrae'il le-Ikhud ha-Amiruyot?
"Have you heard that there are already flights between Israel and the UAE?"

– מעניין. בא לי לנסוע.
Me'anyen. Ba li linso'a.
"Interesting. I'd like to go."
– למדתי סיף מאבא שלי, שבזמנו היה סייף אולימפי.
Lamadeti sa'if me-Abba sheli, she-be-zmano hayah sayyaf Olimpi.
"I learned fencing from my father, who used to be an Olympic fencer."

– מעניין. לא ידעתי.
Me'anyen. Lo yada'ti.
"Interesting. I didn't know that."
5. מה אתה אומר / את אומרת?
Mah atah omer / Mah at omeret?
"You don't say."
– אומרים שהמגפה התחילה עם עטלפים בסין.
Omrim she-ha-magefah hitkhilah im 'ataleifim be-Sin.
"They say the pandemic started with bats in China."

– מה את אומרת? לא להאמין.
Mah at omeret? Loleha'amin.
"You don't say. It's hard to believe."
– אחות שלי מתכוננת למרתון בניו יורק כבר שנה וחצי.
Akhot sheli mitkonenet la-Maraton be-Nyu York kvar shanah va-khetzi.
"My sister has been training for the New York Marathon for a year and a half already."

– מה אתה אומר? שיהיה לה בהצלחה!
Mah atah omer? She-yihiyeh la be-hatzlakhah!
"You don't say. Good luck to her!"
3. Learn Hebrew Filler Words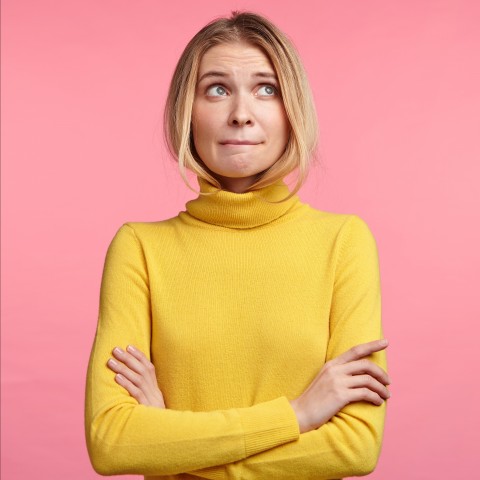 Filler words, sometimes also known as crutch words, are a great way to show interest in a conversation without putting yourself on the spot to say more than you can handle. Alternatively, they can be a great way to buy a bit of time as you plan the next thing you're going to say. Here are a few of the most common Hebrew filler words. You can find more here.
1. אממ…
Em
"Um"
– אז מה בא לך לאכול?
Az mah bah lakh le'ekhol?
"So what do you feel like eating?"

– בא לי, אממ, שווארמה בלאפה.
Ba li, emm, shawarmah be-lafah.
"I feel like, um, shawarma in lafa bread."
– איך קוראים לזמרת הזאת?
Eikh korim la-zameret ha-zot?
"What's this singer's name?"

– אני חושב שזאת דואה, אממ, דואה ליפה. 
Ani khoshev she-zot Du'ah, emm, Du'ah Lipah.
"I think that's Dua, um, Dua Lipa."
2. כאילו
Ke'ilu
"Like"
– למה אתה לא אוהב לשתות קפה?
Lamah atah lo ohev lishtot kafeh?
"Why don't you like drinking coffee?"

– לא יודע. זה כאילו ממריץ אותי יותר מדי.
Lo yode'a. Zeh ke'ilu mamritz oti yoteir midai.
"I dunno. It, like, gets me too worked up."
– מה אמרו לך בראיון?
Mah amru lakh ba-re'ayon?
"What did they tell you in the interview?"

– לא תאמיני אבל ביטלו אותו, כאילו, בלי להודיע לי!
Lo ta'amini aval bitlu oto, ke'ilu, beli lehodi'a li.
"You won't believe it, but they cancelled it, like, without letting me know."
3. יעני
Ya'ani
"I mean"
– מה תרצה לאכול?
Mah tirzeh le'ekhol?
"What would you like to eat?"

– ארוחת בוקר קלאסית, יעני, ביצים, טוסט, גבינה.
Arukhat boker klasit, ya'ani, beitzim, tost, gvinah.
"Bring me a classic breakfast, I mean, eggs, toast, cheese."
– אני לא בטוחה שהבנתי את הכוונה שלך.
Ani lo betukhah she-hevanti et ha-kavanah shelkha.
"I'm not sure I understood what you meant."

– אני עייף מכל העבודה, יעני, מותש.
Ani 'ayeif mi-kol ha-'avodah, ya'ani, mutash.
"I'm tired from all the work, I mean, exhausted."
4. בצעם
Be-'etzem
"Essentially / Basically"
– מה זה הדבר הזה?
Mah zeh ha-davar ha-zeh?
"What is that thing?"

– זה בעצם רובוט שמנקה לך את הרצפה.
Zeh be-'etzem robot she-menakeh lekha et ha-ritzpah.
"It's essentially a robot that cleans the floor for you."
– במה אתה עובד?
Be-mah atah 'oved?
"What do you do for a living?"

– אני בעצם מתאם בין קונים ומוכרים של ציוד משרדי.
Ani be-etzem meta'em bein konim ve-mokhrim shel tziyud misradi.
"I basically broker between buyers and sellers of office equipment."
5. אז
Az
"So"
– אז… נוסעים לים?
Az… nos'im la-yam?
"So… should we go to the beach?"

– יאללה, בוא.
Yallah, bo.
"Let's go."
– אני רואה שאתה מקבל את ההודעות שלי ולא עונה, אז…
Ani ro'ah she-atah mekabell et ha-hoda'ot sheli ve-lo 'oneh, az…
"I see you're getting my messages and not answering them, so…

– אז כלום. סתם לא ראיתי אותם.
Az klum. Stam lo ra'iti otam.
"So nothing. I just didn't see them."
4. Learn Common Questions and Answers in Hebrew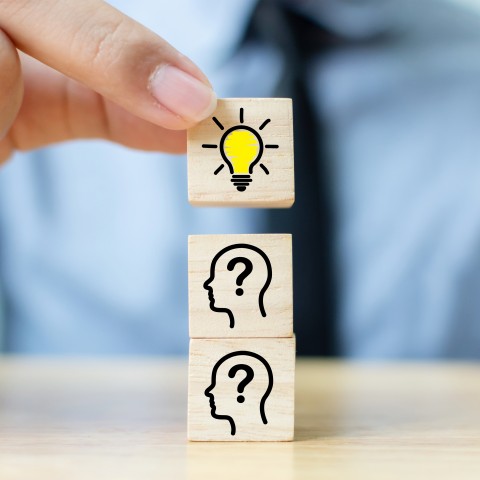 As you surely know, and as you can clearly see from our examples, so much of conversation revolves around questions and answers. While it would be impractical if not impossible to try to prepare oneself to answer any question, it's fairly easy to identify the more common questions one is likely to find oneself fielding. This is especially true if one is a foreigner sojourning in a distant land!
With that in mind, here are the top questions, with some sample answers, that you're likely to encounter as a foreigner in Israel. One you've got these down, try expanding on them by anticipating the sorts of follow-up questions you might get in a typical conversation, along with some good answers to offer. For example, if you tell someone that you're working or studying in Israel, it's reasonable to assume they may ask you how long you've been there. You can find more on questions and answers in Hebrew here.
1. מאיפה אתה / את?
Me-eifoh atah / at?
"Where are you from?"
(You can find a list of country names in Hebrew here.)
אני מצרפת.
Ani mi-Tzarfat.
"I'm from France.
אני מלונדון.
Ani mi-London.
"I'm from London."
אני ממקסיקו.
Ani mi-Meksiko.
"I'm from Mexico."
אני מרוסיה.
Ani mi-Rusiyah.
"I'm from Russia."
2. מה שלומך?
Mah shlomkha / shlomekh?
"How are you?"
(You can find more possible responses here.)
אני בסדר.
Ani beseder.
"I'm okay."
אני מעולה.
Ani me'uleh / me'ulah.
"I'm great."
אני על הפנים.
Ani 'al ha-panim.
"I'm awful."
3. איך למדת עברית?
Eikh lamadeta / lamadet 'Ivrit?
"How did you learn Hebrew?"
למדתי עברית בביה"ס.
Lamadeti 'Ivrit be-veit ha-seifer.
"I learned Hebrew at school."
למדתי עברית באוניברסיטה.
Lamadeti 'Ivrit ba-universitah.
"I learned Hebrew at university / in college."
למדתי עברית בבית.
Lamadeti 'Ivrit ba-bayit.
"I learned Hebrew at home."
למדתי עברית לבד.
Lamadeti 'Ivrit levad.
"I learned Hebrew on my own."
4. למה אתה לומד / את לומדת עברית?
Lamah atah lomed / at lomedet 'Ivrit?
"Why are you studying Hebrew?"
אני לומד עברית מתוך ציונות.
Ani lomed 'Ivrit mitokh Tziyonut.
"I'm studying Hebrew out of Zionism."
אני לומד עברית בשביל הלימודים / לעשות עסקים.
Ani lomeid 'Ivrit bishvil ha-limudim / la'asot le-'asakim.
"I'm studying Hebrew for school / business."
אני לומדת עברית כי יש לי הרבה חברים ישראלים.
Ani lomedet 'Ivrit ki yesh li harbeh khaverim Yisra'elim.
"I'm studying Hebrew because I have a lot of Israeli friends."
אני לומדת עברית בגלל שבעלי ישראלי.
Ani lomedet 'Ivrit biglal she-ba'ali Yisra'eli.
"I'm studying Hebrew because my husband is Israeli."
אני לומד עברית כדי לקרוא את התנ"ך בשפת המקור.
Ani lomed 'Ivrit kedei likro et ha-TaNa"Kh bi-sfat ha-makor.
"I'm studying Hebrew in order to read the Bible in the original language."
5. מה אתה / את עושה בארץ?
Mah ata oseh / at osah ba-Aretz?
"What are you doing in Israel?"
אני לומד/ת.
Ani lomed / lomedet.
"I'm studying."
אני עובד/ת.
Ani 'oved / 'ovedet.
"I'm working."
אני מטייל/ת.
Ani metayel / metayelet.
"I'm traveling."
אני מבקר/ת אצל משפחה / חברים.
Ani mevaker / mevakeret etzel mishpakhah / khaverim.
"I'm visiting family / friends."
אני סופג/ת קצת תרבות.
Ani sofeg / sofeget k'tzat tarbut.
"I'm soaking up some culture."
5. Learn Conversation Starters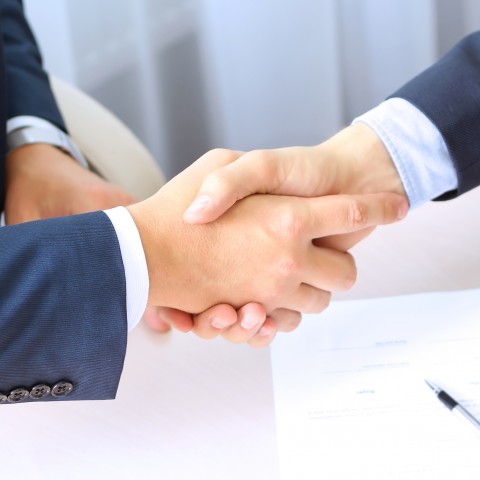 Sometimes the hardest part of a conversation is getting one started. The truth is that while this can be universally true, it's doubly so when the language you wish to converse in isn't your native one. With that in mind, here are some tried and true ways you can start up a conversation in different situations.
Keep in mind that not all of these will work all the time. For example, asking two passengers on a bus sitting next to one another how they met may not yield the best results. But if you meet the girl of your dreams at a party moments before her boyfriend sidles up, the same question might just help you save face! So use these judiciously.
1. איך הכרתם? / איך אתם מכירים?
Eikh hikartem? / Eikh atem makirim?
"How did you meet? / How do you know each other?"
2. מה אתה אוכל/שותה / את אוכלת/שותה?
Mah atah okhel/shoteh? / Mah at okhelet/shotah?
"What are you eating/drinking?"
3. כמה זמן לקח לך להגיע?
Kamah zman lakakh lekha/lakh lehagi'a?
"How long did it take you to get here?"
4. במה אתה עובד / את עובדת?
Be-mah atah oved / at ovedet?
"What do you do for a living?"
5. בא לך משהו לאכול/לשתות?
Ba lekha/lakh mashehu le'ekhol/lishtot?
"Would you like something to eat/drink?"
6. אתה בא / את באה לכאן הרבה?
Atah ba / At ba'ah le-khan harbeh?
"Do you come here a lot?"
7. את/ה יודע/ת מה השעה?
At/ah yoda'at/yode'a ma ha-sha'ah?
"Do you have the time?"
8. איזה מזג אוויר, אה?
Eizeh mezeg avir, ah?
"Some weather, huh?"
9. אני מכיר/ה אותך מאיפשהו?
Ani mekir / mekirah otkha / otakh mi-eifohshehu?
"Do I know you from somewhere?"
10. מישהו יושב כאן?
Mishehu yoshev kan?
"Is anyone sitting here?"
6. General Tips to Help Improve Your Hebrew Conversation
Lastly, here are a handful of choice tips to help you take your conversation game to the next level. Alongside studying the relevant language, these tips can set you up for success as you become the great Hebrew conversationalist you were surely meant to be. And we here at HebrewPod101 know you've got it in you! As a bonus, these tips can also help you improve your conversation in English and/or any other language you speak, assuming the linguistic culture isn't drastically different (for instance, if eye contact is considered offensive).
That having been said, just as with any other art, the key to mastering the art of conversation lies in the hours you spend practicing. But the good news is that, as long as your conversation partner has something interesting to share – and who doesn't? – conversation is not just an art but a very enjoyable pastime, as well! So go on and have some fun!
1. Active listening and mirroring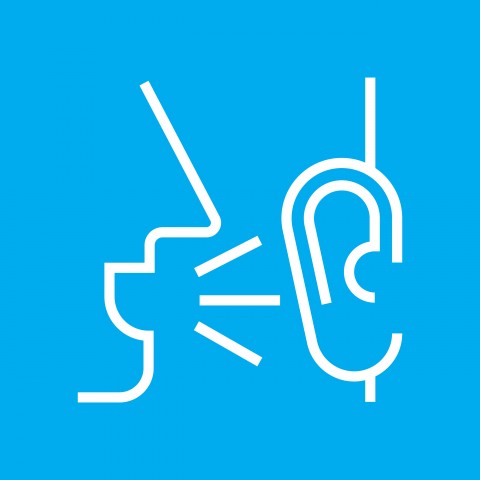 Active listening means you are fully engaged in the conversation. You can show this by mirroring the other person's language and non-verbal gestures, as well as by responding at regular intervals to keep the conversation flowing. Note that this is where filler words can really come in handy. Whatever you do, try to avoid those awkward silences, as they are just as awkward in Hebrew as they are in English!
2. Demonstrate understanding and empathy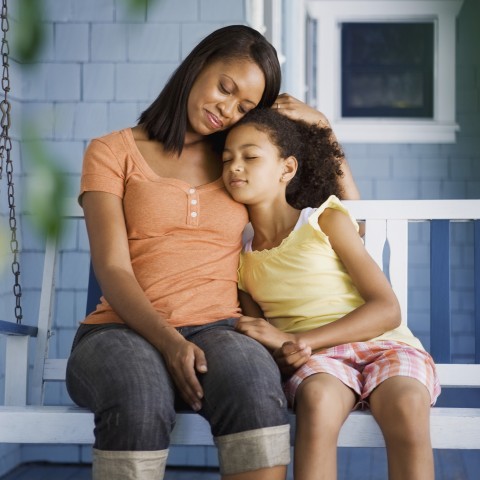 No one enjoys speaking to someone who seems to just be waiting for every opportunity to turn the focus back to him- or herself. Not only is this rude, but it also turns a conversation into a monologue. Really listen to the other person, and show them that you are listening by reacting directly to things they've said, asking follow-up questions, and referring back to things mentioned previously in the conversation. In short, show that you actually care about what they're telling you!
3. Focus on using the right gender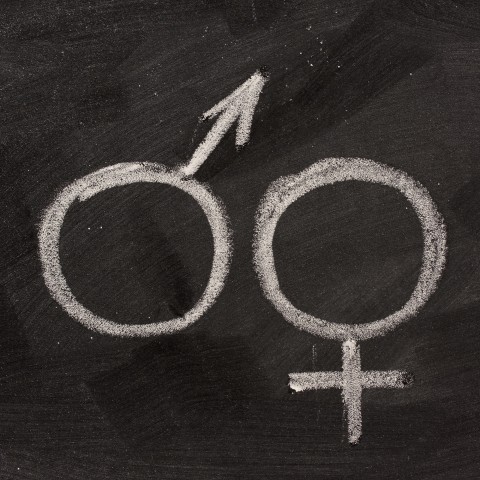 This one is obviously less relevant to non-gendered languages like English, but it's key in Hebrew's case. Gender may be a bit stressful to have to keep in mind, particularly if you are new to grammatically gendered languages. But think about how uncomfortable it is when people are referred to in a gender they don't identify with, and you'll quickly comprehend why it behooves you to pay attention to this. Remember that Hebrew genders are not just nouns and pronouns but also adjectives and verbs.
4. Invest in your pronunciation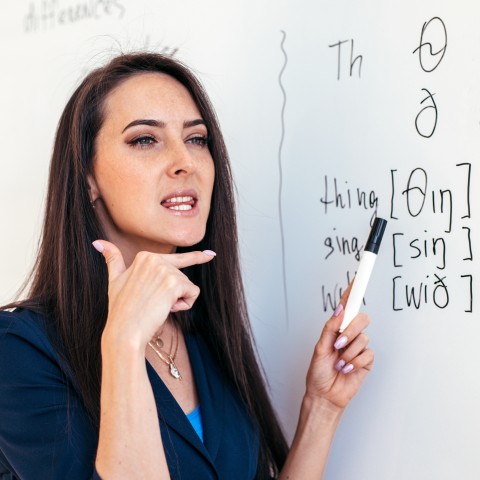 Practice the sounds of the Hebrew language, which you can find more on here. There are a number of sounds in Hebrew that will be foreign to English speakers in particular, and you may never really nail them perfectly. However, you can always approximate, and close is much better than making no effort at all! Trust us when we tell you that Israelis are both aware of the challenges Hebrew poses for non-native speakers and appreciative when non-native speakers make a conscious effort to improve their pronunciation.
5. Avoid over reliance on filler words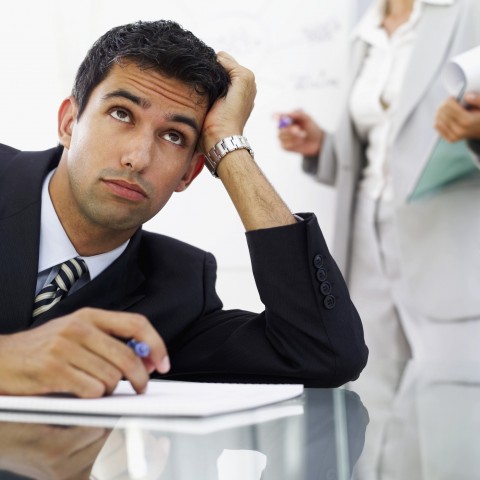 Remember when we said that filler words are also sometimes called crutches? This is true in cases of overreliance on them, and that's something you want to avoid. We've all met that person who uses a particular word or phrase, often "like" or "you know," and we all know just how tiring that can become. Overusing such words, which don't typically convey any meaning, does not make a good impression, as it suggests a scattered focus or even a lack of something to say. So yes, use fillers, but, emm, in moderation!
6. Ask for words if you don't know them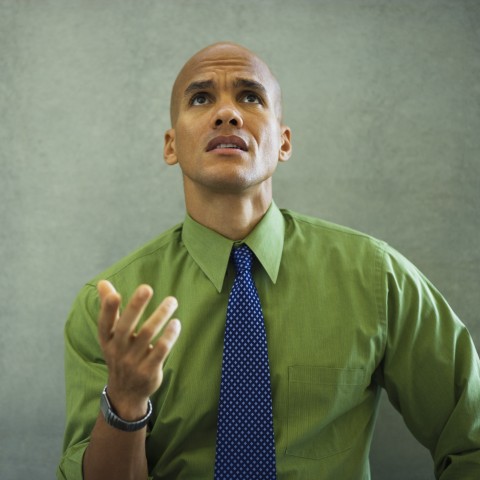 While in some cultures, people may be reluctant to admit when they don't know something, it's highly unlikely that any Israeli is going to look down on you if you admit to not knowing the right word for what you want to say. On the contrary, most will be happy to have the opportunity to help you! Remember that Israel is a country of immigrants, so all Israelis are experienced in speaking to foreigners, no matter how rough, or even non-existent their Hebrew may be. By asking an Israeli for the right Hebrew word for what you want to say, you will more likely than not impress them with your commitment to precision and your desire to learn.
7. Smile!
Okay, maybe not all the time. After all, sometimes the bus doesn't even stop for you, or the babushka lady runs over your foot with her cart as you're trying to get on board, so a frown is sometimes warranted. But a smile can go a long way in conveying what you may not yet be able to say in Hebrew. In any case, it's a universal sign that means you're happy to be talking to your conversation partner, so why not just flash one and see what happens?
7. How HebrewPod101 Can Help You Improve Your Conversation Skills
Last but not least, HebrewPod101 offers you a wide variety of tools and other resources to help you boost your powers of gab. Aside from our many blogs on all things Hebrew, you can also listen to many sample conversations where you can experience what Hebrew words, phrases, and grammar points in context and with native pronunciation. Additionally, you can take advantage of HebrewPod101's vocabulary lists that can arm you with a more robust lexicon for a given topic or situation.
And if you really want to take your Hebrew conversation skills to the next level, you can also avail yourself of a personal teacher through our Premium PLUS offer. We at HebrewPod101 are here to help! Our expert and native teachers would love to hear from you with any questions or comments you may have, so don't hesitate to reach out. Until next time, shalom!